KLIMA CENTER OF THE MANILA OBSERVATORY CONDEMNS THE ABDUCTION OF JHED TAMANO AND JONILA CASTRO
On September 2, 2023, environmental defenders Jhed Tamano, 22, and Jonila Castro, 21, were forcibly disappeared in Bataan. As they are both volunteers for AKAP KA Manila Bay, they were doing research on land reclamation in Manila Bay before their abduction. Today, September 19, 2023, they were finally presented at a press conference with the NTF-ELCAC. While the NTF-ELCAC claims that the two voluntarily surrendered, the victims confirmed that they were abducted by the military.
Subsequently, the two young activists were released and are now free. There is no legal basis to hold them in detention.
The Klima Center of the Manila Observatory strongly condemns the abduction of Jhed Tamano and Jonila Castro. As a scientific institution that recognizes the importance of our environmental defenders, we firmly stand with Jhed and Jonila; we stand with the youth who endlessly work towards a brighter, cleaner future.
We support environmental and climate justice activists who fearlessly defend the planet and the poor and excluded. As Pope Francis puts it in Laudato Si', "Particular appreciations is owed to those who tirelessly seek to resolve the tragic effects of environmental degradation on the lives of the world's poorest. Young people demand change."
What is so wrong with the youth doing their part to care for our common home? Stop the enforced disappearances of our environmental defenders! Stop attacking the youth!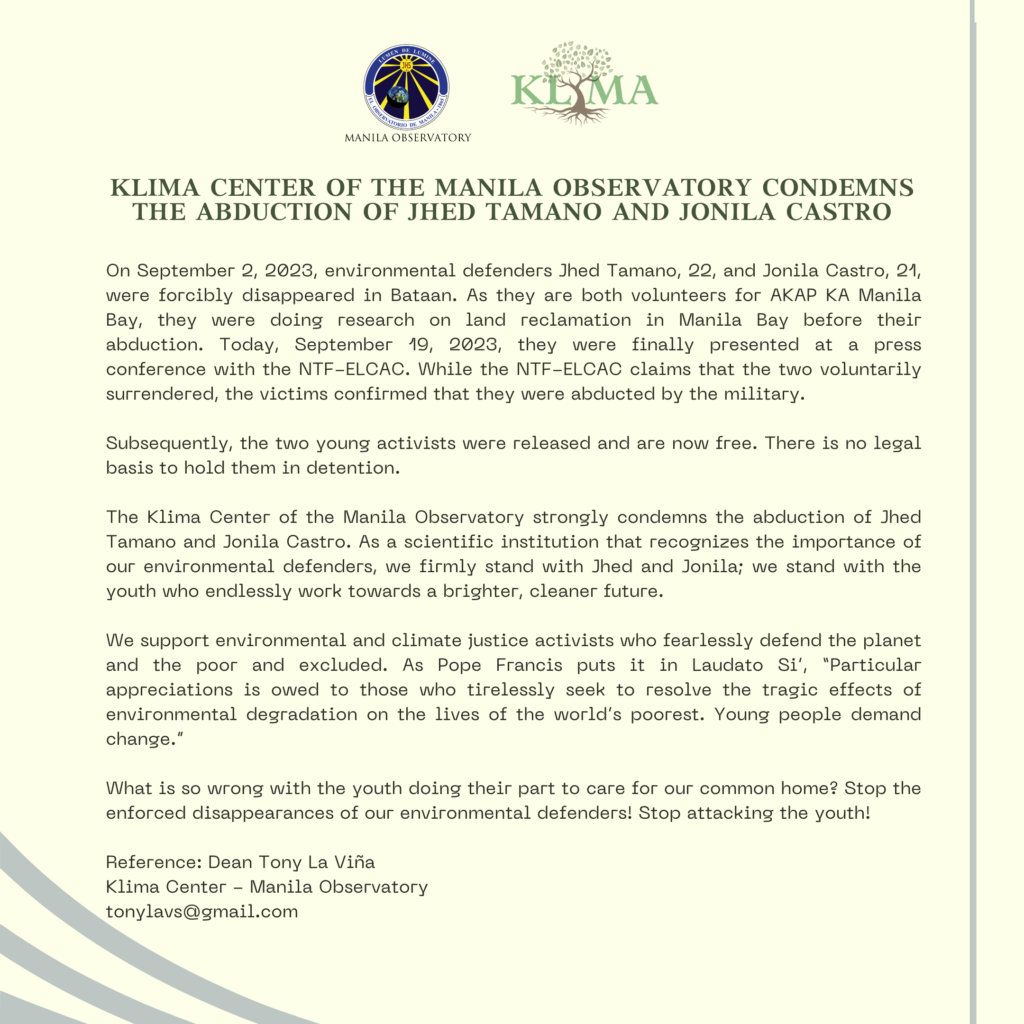 Reference: Dean Tony La Viña
Klima Center – Manila Observatory
tonylavs@gmail.com